Vdubfixer Auto Technik is an independent Audi and Volkswagen repair shop in Ottawa, owned and operated by mechanic Emma Rosling. We opened in 2010 and are now in our seventh year of operation, with a steadily growing list of very satisfied customers.
About the Owner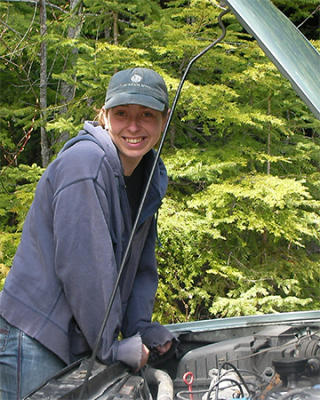 Emma completed automotive service technician pre-apprentice training in 2006 at the Center for Trades and Technology in Surrey BC, graduating top in the class with the highest evaluation of any student ever at the school.
After apprenticing for two years with a Volkswagen dealer and a VW/Audi performance shop in Vancouver it was time to move back east, where Emma continued apprenticing with an independent VW/Audi specialist and a Volkswagen dealer.
This experience working exclusively with Volkswagen and Audi finally led to opening our own shop.
That is the summary, but the story behind it is actually more interesting and explains why we at Auto Technik have such a passion for the cars we work on.
Chasing a Dream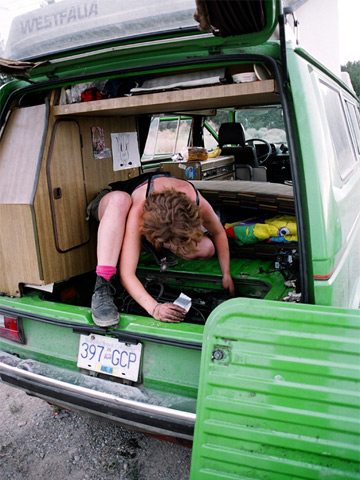 Once upon a time there was a child who dreamed of having a VW camper van and all sorts of adventure to go with it.
Years went by and that child grew into someone who loved the puzzle of a broken machine — almost any kind of machine. Bring on the squeaky bicycle, toaster that won't toast, tape player that eats tapes, and computers that make you want to throw them out the window.
One day the childhood dream became reality. There was an air-cooled 1980 VW van in all its moss-covered non-running glory.
The repair manual was read from cover to cover, the tools were borrowed, and with much guidance from a friend the engine was rebuilt. Many adventures were had with that van, including more breakdowns and more learning to fix it.
One of those adventures led to meeting an air-cooled Porsche mechanic who was willing to trade the parts required to fix the van for some labor in his shop. Then the question "what do you want to be when you grow up?" was finally answered.
Training
Wanting to work in a shop soon led to enrolling in an auto mechanic's course at the Centre for Trades and Technology in Surrey. Emma aced the course and was their best student ever, rebuilding the school owner's 1.8T Jetta engine as a course project.
Now completely hooked on being a mechanic, and addicted to Volkswagens, the years of apprenticeship rolled by. They included working in several different VW/Audi shops while looking for the right place to stay a few years.
Working for a VW dealership, with access to all the right tools and information, was wonderful but it was all about productivity without room to get to know individual cars, their owners, and what the owner wants from their car.
That problem was solved by working in independent VW/Audi repair shops. The performance-oriented ones were the most fun, but even there not all was perfect. Some shop owners are not as honest as one would like, others maybe not as skilled, but all of them have something we can learn from.
Putting it all together
Having worked in many different shops, all VW/Audi-focused, Emma's dream was to bring the best elements of all of them together in her own shop.